Webmaster
Clive Roberts
The Candle Club was the first open mic night to be held in Southampton.
Established in 1996 by Simeon Hill and Clive Roberts at The Talking Heads in
Southampton, the Candle Club takes place every Monday night and has a
reputation for encouraging new talent of whatever age or experience. (Under
18's must be accompanied by an adult).
Click on the traffic lights on the left to find out about their significance and
much more!
For more details of the Southampton Candle Club email: info@candleclub.co.uk
---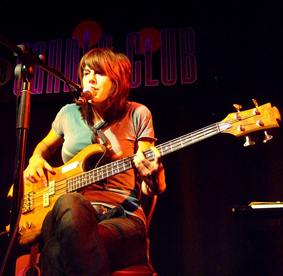 Emma and Russell from Band of Skulls. Sadly not seen at the CC very often now!
Simeon Hill
14 April 1962 – 21 January 2013
R.I.P.
For YouTube videos click herex
Facebook group (Southampton)
click here
Facebook group (Bristol) click here
Twitter – Follow us... @candle_club

Tom Deacon learning his craft


Megan from Thomas Tantrum
Got a demo CD?
Then check out 'South Live' .
South:Live is a Sunday evening unsigned music programme from 7-9pm which is broadcast on both BBC Southern Counties Radio and BBC Radio Solent.
Its principle focus is to promote and support emerging/unsigned artists from within our broadcast region so virtually all of the music that is played during the show is from music that listeners have sent in. The show also features weekly live sessions performed from artists selected from the demos that have been sent in. These sessions are performed with a full PA from the front foyer of the studio to a live studio audience previously unheard of on local radio. Forms here